Transformers: Artistic Alchemy
Group Exhibition: Curated by Dorothy Moye
Dalton Gallery
Agnes Scott College: Decatur, GA
September 13–December 8, 2018
Monday-Friday: 10:00 AM – 4:30 PM, Saturday: Noon – 4:00 PM
Description: All art making implies an act of transforming—changing materials from one thing to another—increasing or decreasing the voltage of the materials—changing the form, appearance or character of these materials. The Transformers in this exhibition are artists who begin with a recognizable object as the raw material for their act of transformation. The enhancement or subversion of the original object can involve adding layers of meaning to the object or can reverse the original intent of that object completely, whether it be as tangible and indestructible as a massive rubber tire, as fragile as sewing patterns or shredded currency, or as transitory as a virtual image. These artists are in the ranks of the ultimate recyclers and alchemists in reusing—and transforming—the original intent and purpose of something that becomes another something, multilayered in what we see, how we interpret and appreciate, and what we think.
Participating Artists: Temme Barkin-Leeds, Chakaia Booker, Sonya Clark, Elyse Defoor, Naomi Wanjiku Gakunga, Bryant Holsenbeck, Jess Jones, Susan Lenz, Pam Longobardi, Eddy Lopez,  Amy Orr, Joseph Peragine, Karen Searles, Gregor Turk, and John Westmark
Image above: Containment, 2017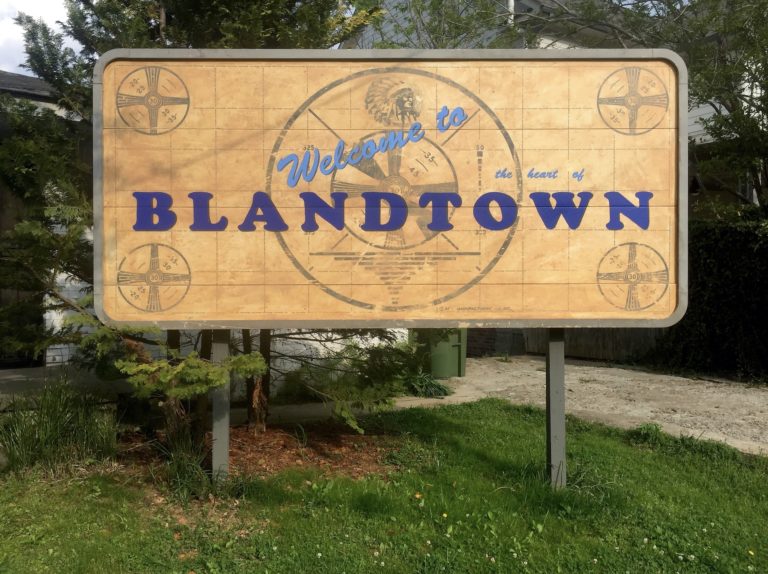 Saving Blandtown
The May 2018 issue of Atlanta Magazine featured an article on the studio and Blandtown.  Atlanta's Westside is booming, but few know the neighborhood of Blandtown by its proper name nor its history. Named after freed slave, Felix Bland, the area was once a thriving African-American community with over a hundred homes. Intentionally undermined in the mid-20th century through rezoning to industrial use, the neighborhood now has large tracts being rezoned back to residential.